viewing room
April 28 – December 31 2023
The Spoon Project
Pratchaya Phinthong
Laos is one of the most heavily bombed areas in the world. Today, a quarter of the Xieng Khouang Province, where Napia Village is located, is contaminated with thousands of unexploded bombs dropped by US forces during the Secret War in Laos, something that represents a constant threat to the safety of local citizens.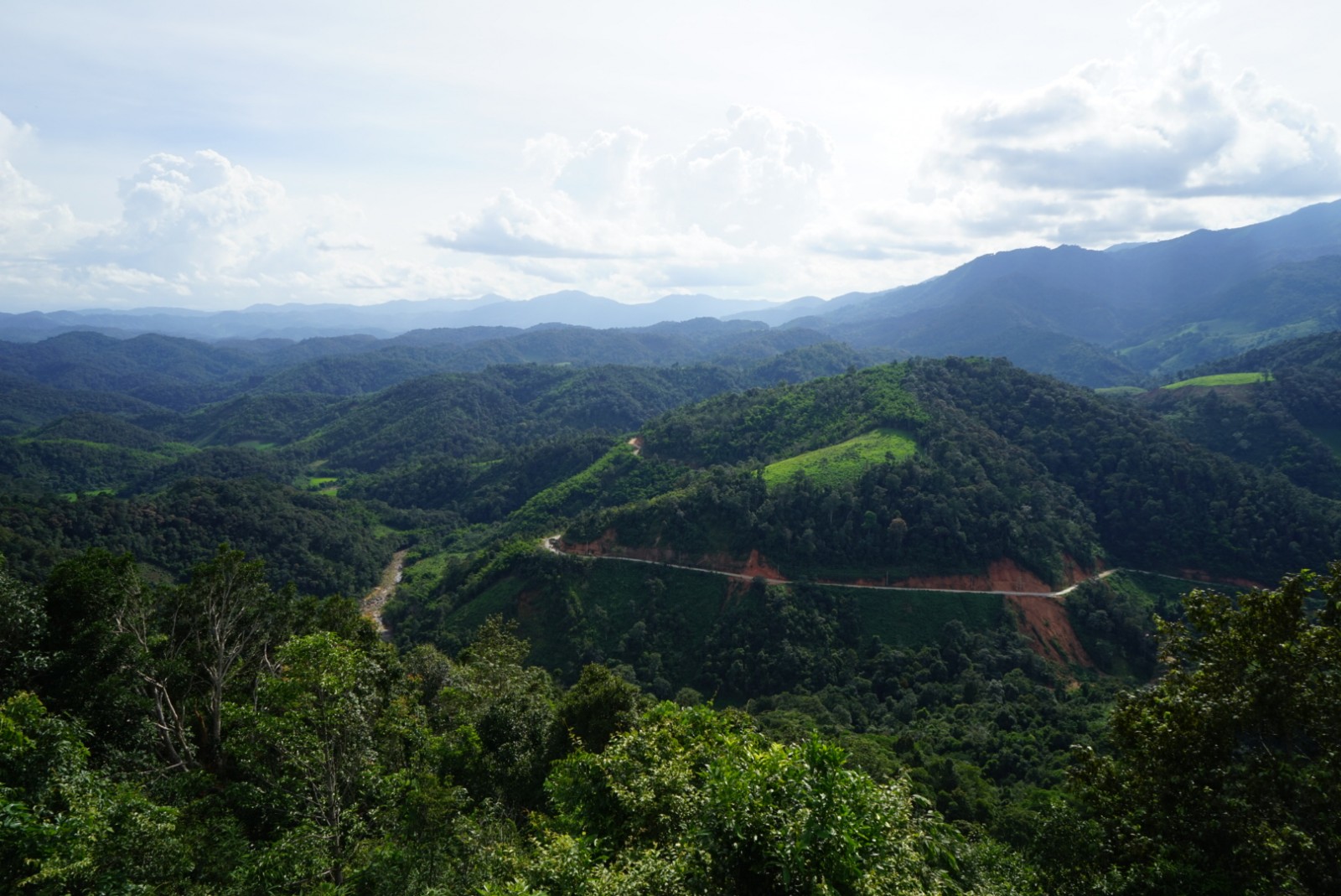 Between 1964 and 1973, over 250 million cluster bombs landed in Laos, thirty percent of which never detonated. Hearing that locals were collecting and melting down these bombs to make spoons to sell to tourists, Pratchaya Phinthong visited Napia.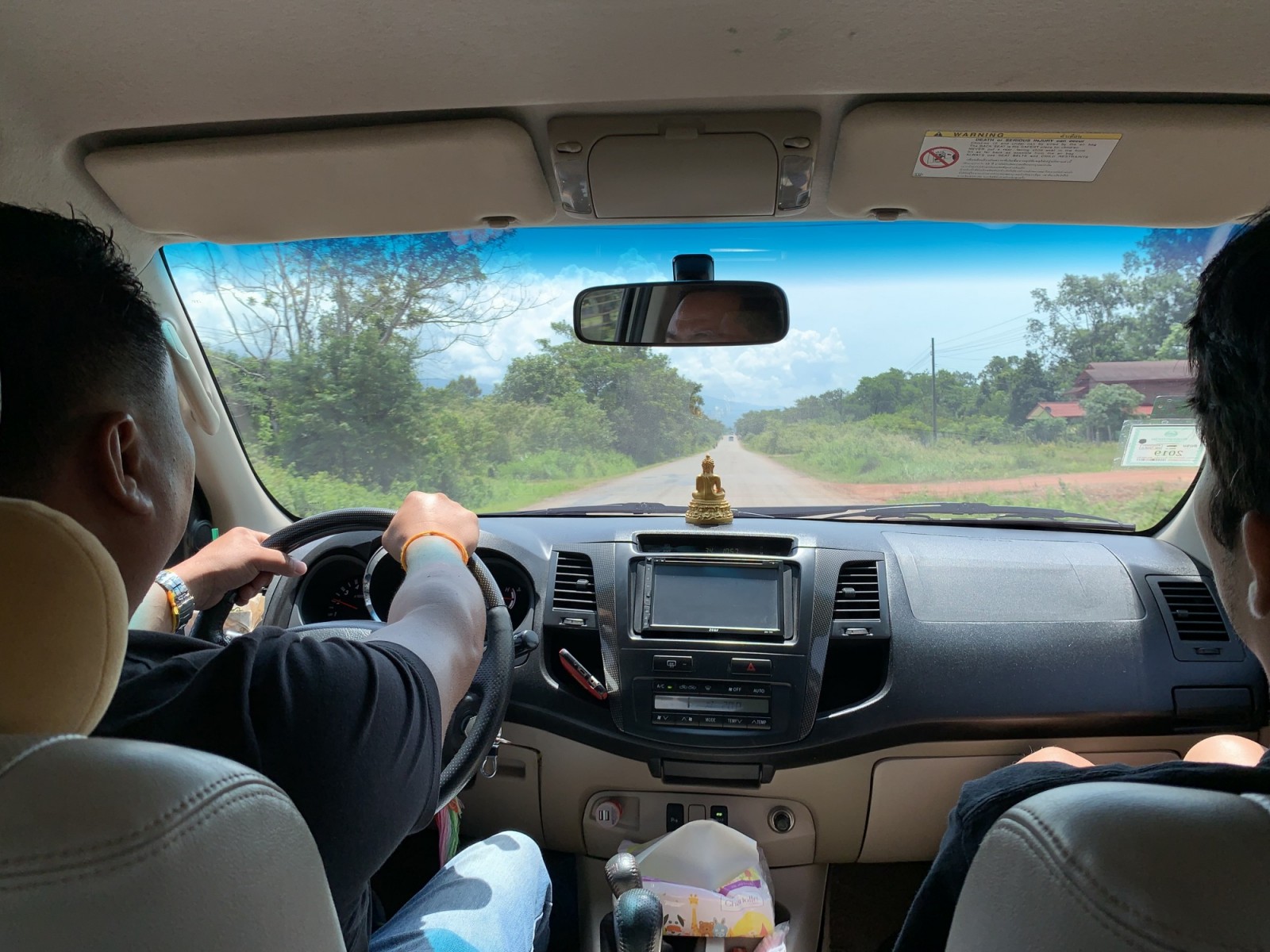 "I visited Ban Napia (Napia Village) and spoke with famillies that live alongside an area in which landmines and cluster bombs are recovered by the Mines Advisory Group (MAG) and local villagers melt down the munitions to produce spoons and other trinkets to sell. It is mostly women who coordinate and extract UDXOs (Unexploded Ordonances), trying to clear the bombs from under the earth's surface before the children accidentally come across them." Pratchaya Phinthong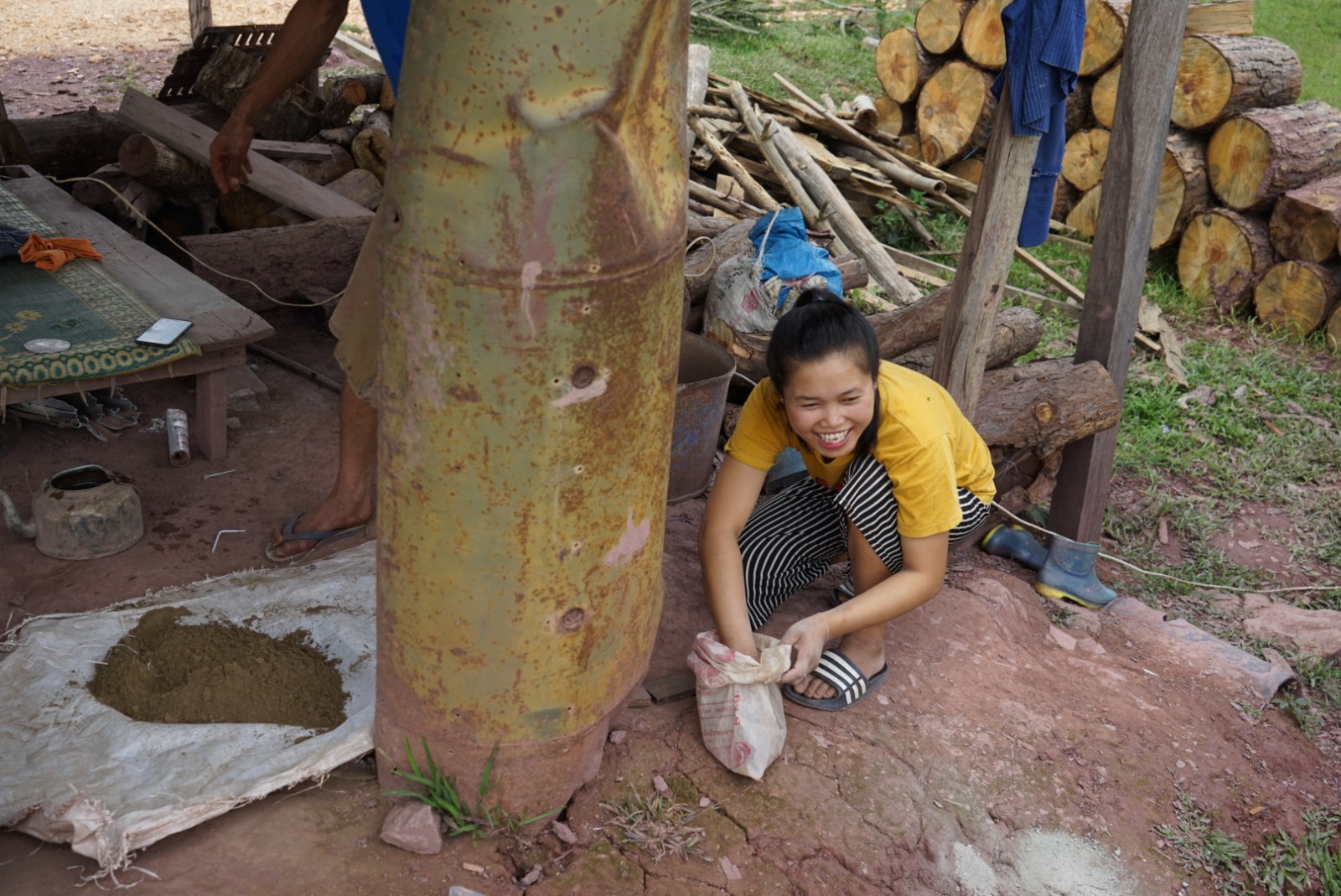 "During my walk around the Plain of Jars area, I met a MAG team who had just come back from work. They told me they had removed and disarmed 400 kg (880 pounds) of munitions that day."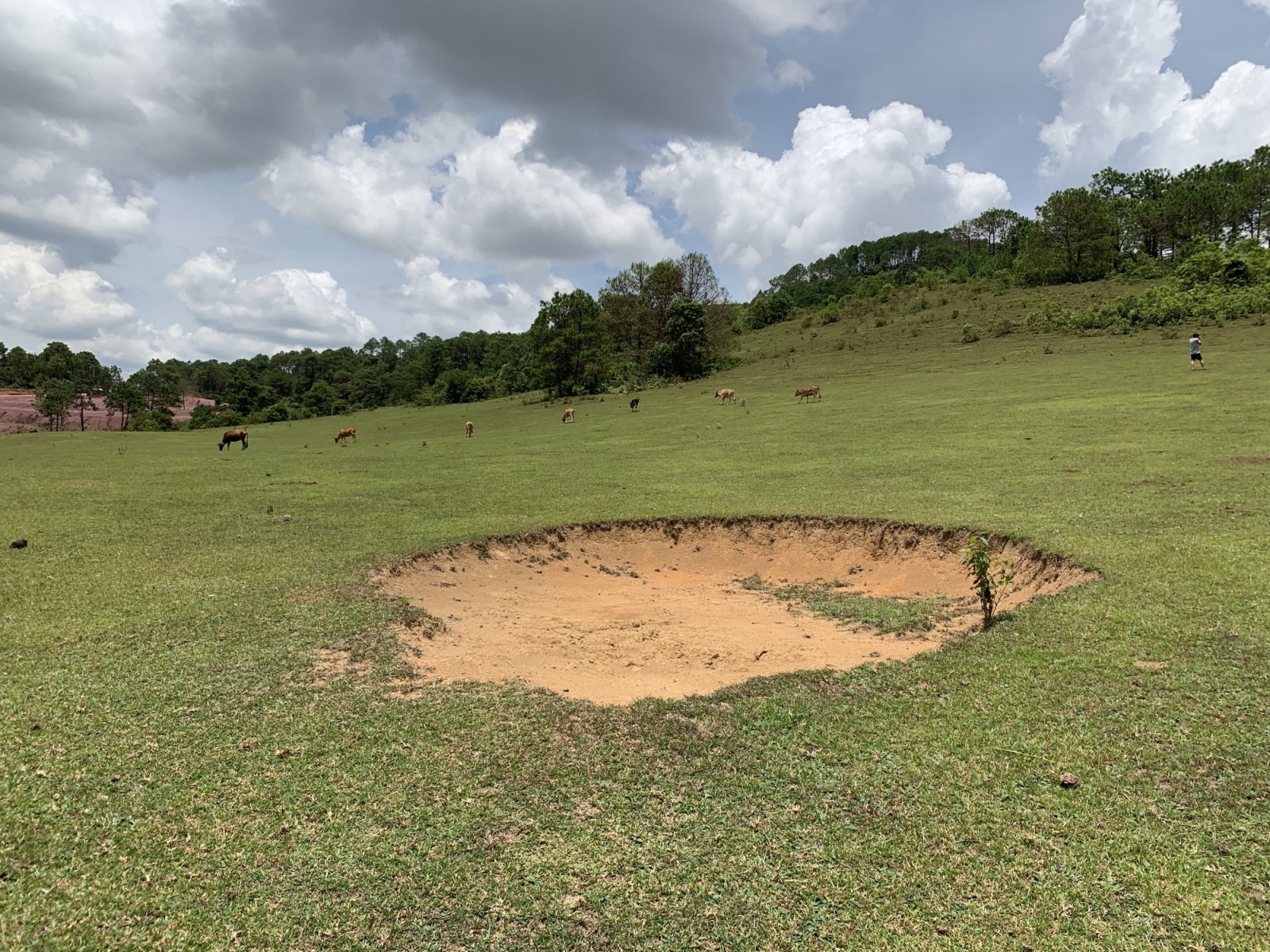 "I was walking up a hill where I found a bomb crater, but was told not to go further because MAG had not yet marked the zone and the area was still unsafe."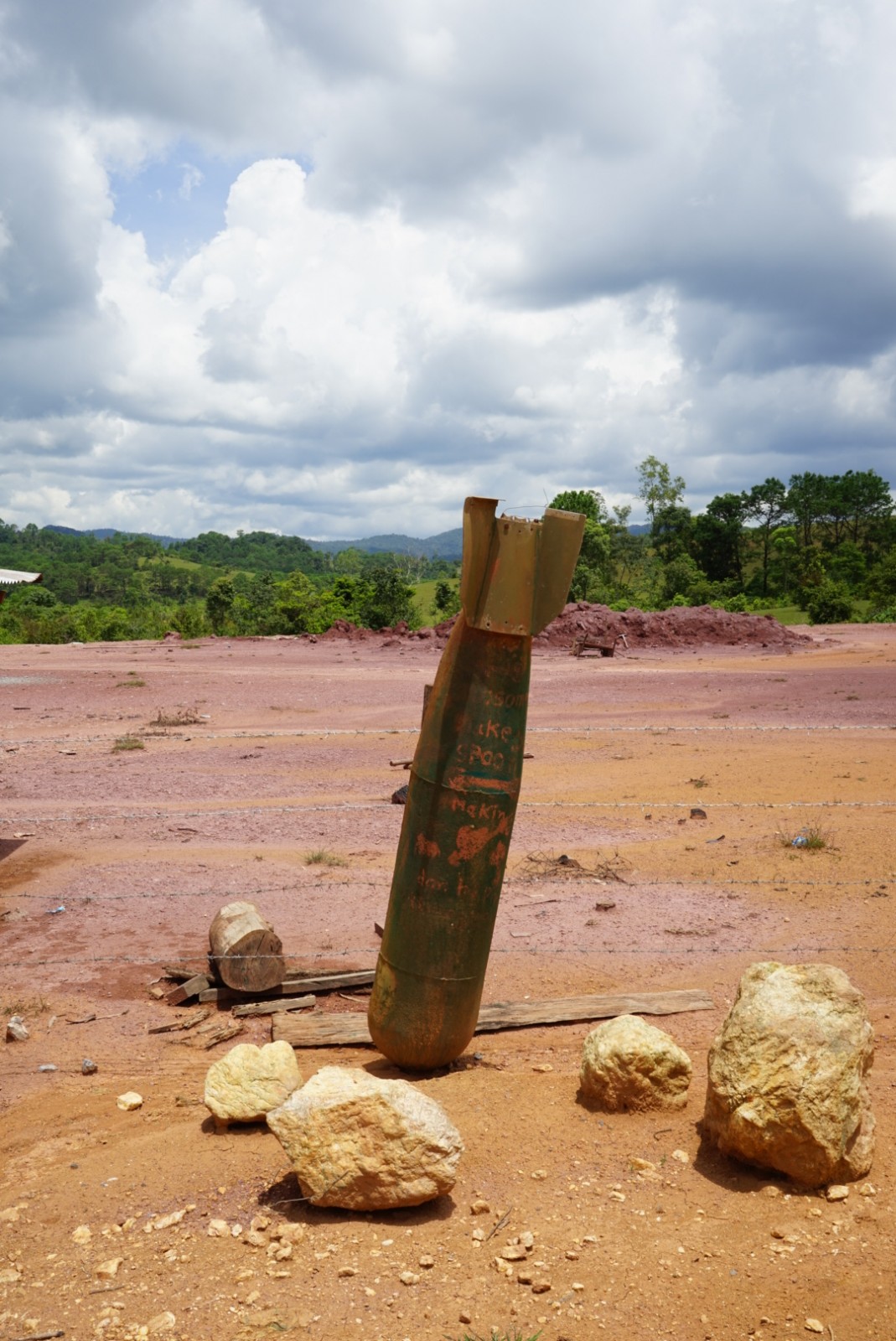 Moved by the villagers' transformation of deadly weapons into a tool of nourishment, the artist asked them to collaborate on new products for international trade.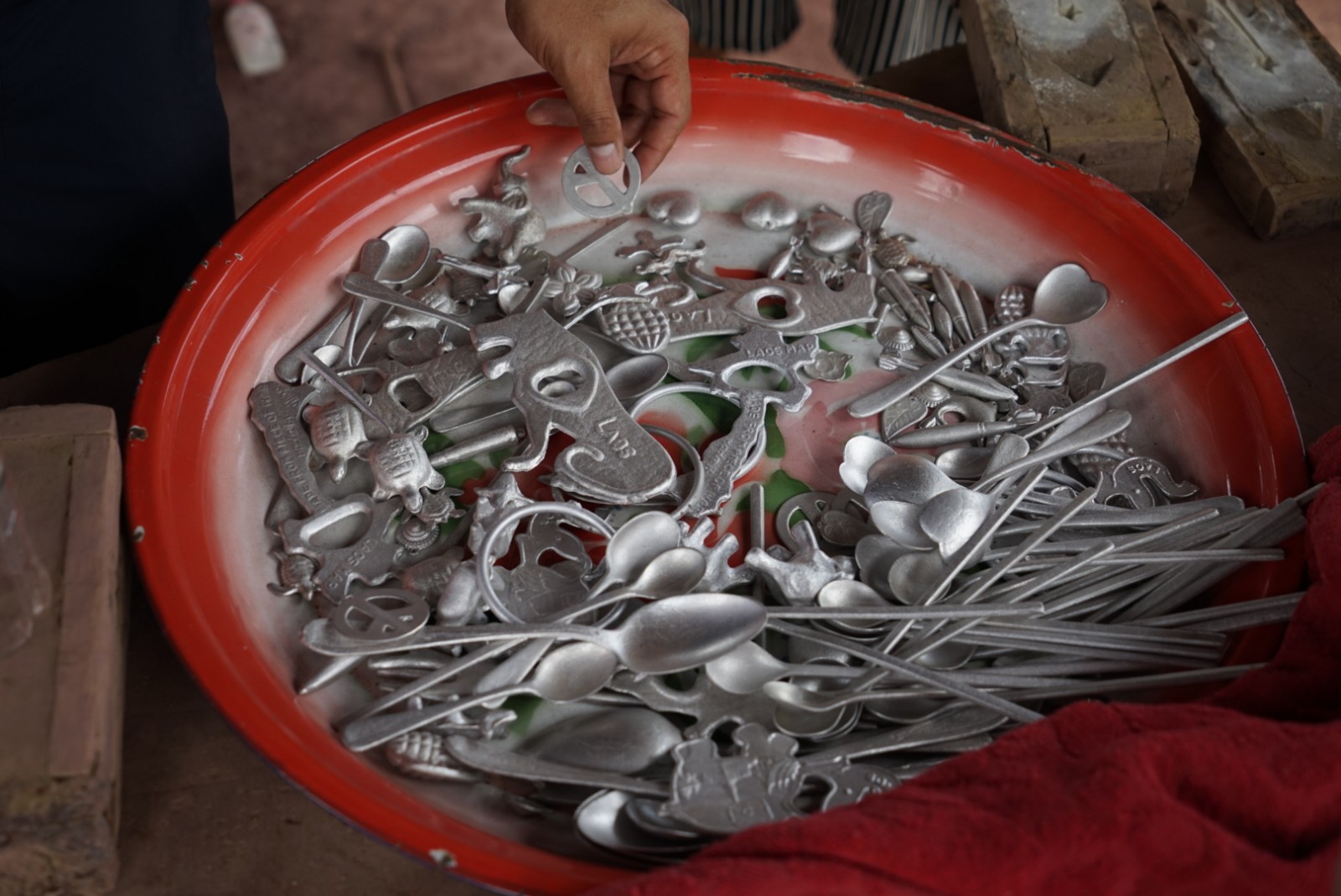 Below: Pratchaya Phinthong draws a freeform circle that accentuates the once liquid state of the metal. The form was later poured into sand, producing the first artwork from the series, entitled Spoon.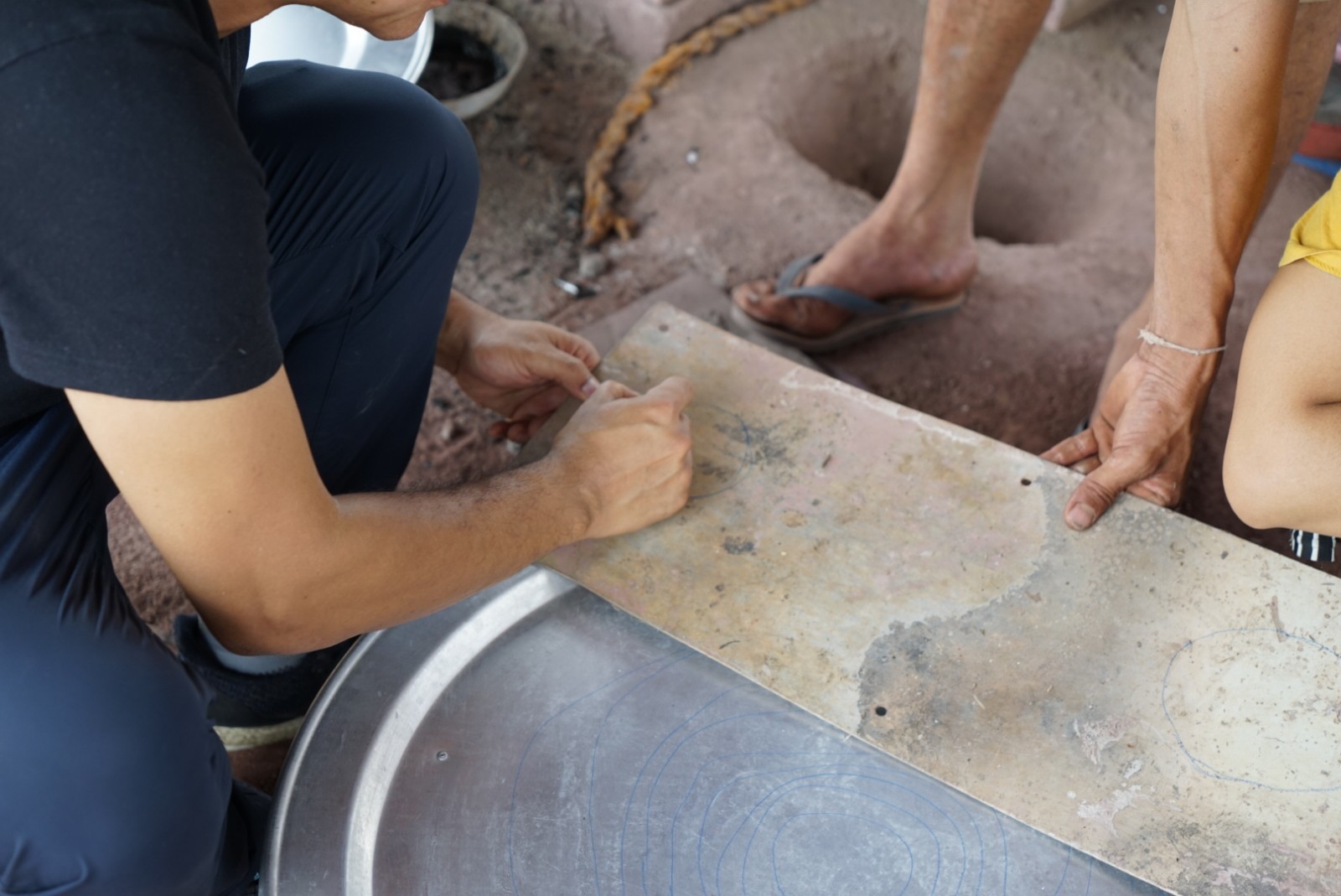 Below: The process of production of Spoon (1.465 kg), 2019
Below: Pratchaya Phinthong also created an open edition in which the metal gets polished using cotton harvested in the fields after they were cleaned of bombs, producing a mirror. The proceeds from the sale of this edition go back to the original community in Laos.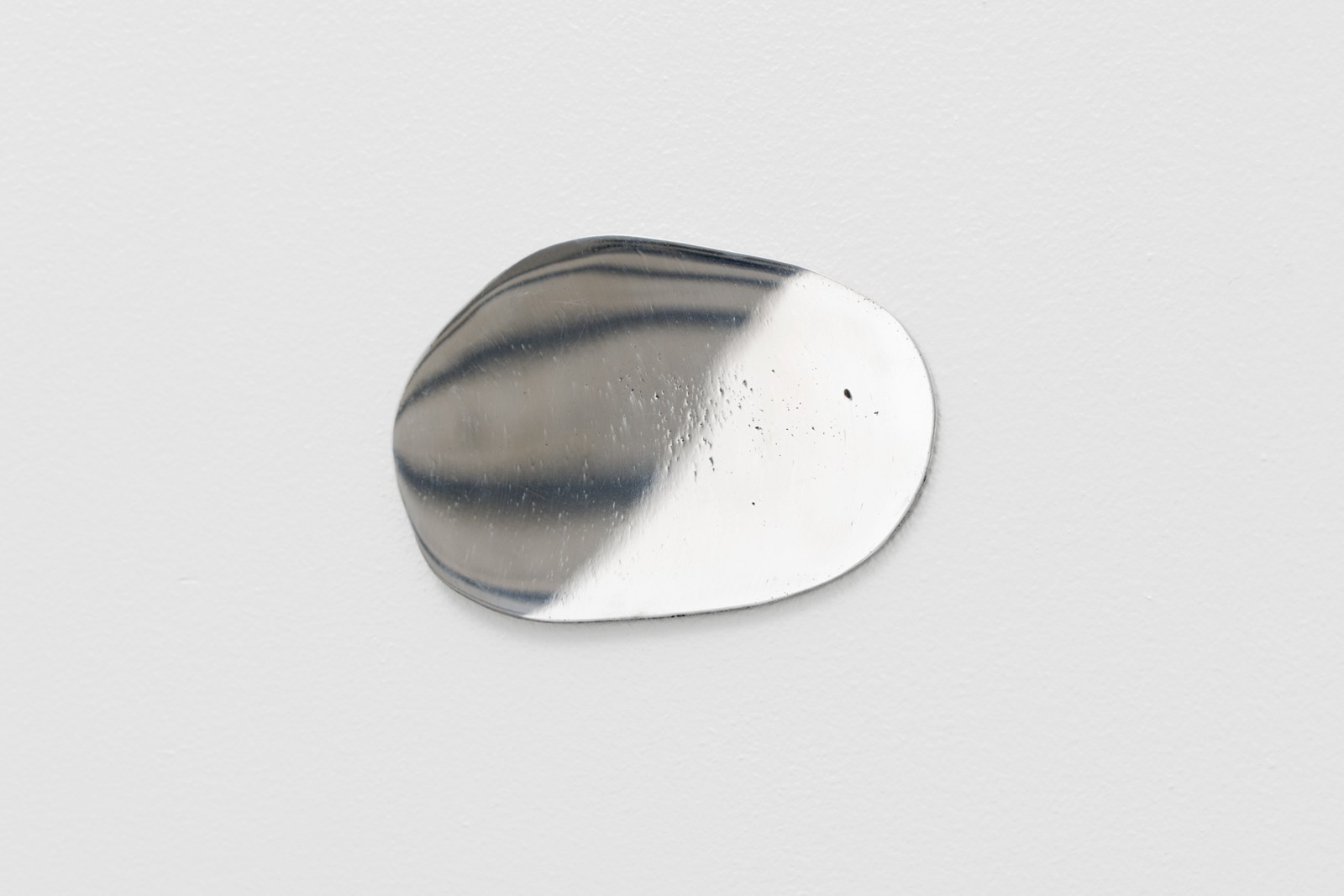 Above: Pratchaya Phinthong, Spoon, 2019. (Open edition)
"Recently, I encountered "Me and my mirror", an initiative of Stephen Sumner, a Canadian cyclist and above-the-knee amputee who cured himself of phantom limb pain through the incredibly simple miracle of mirror therapy. Sumner is currently on the ground in Southeast Asia, delivering mirrors and training to afflicted amputees from Phnom Penh to the Cambodian Highlands and Laos. In the areas most brutally bombed during the Vietnam War, more than 3 tonnes of ordnance per person was dropped. Villagers still find cluster munitions and landmines every day, often with tragic consequences. Sumner is a one-person act, traveling by bicycle with handmade mirrors in various sizes, searching for amputees, providing them with mirrors, and training them in Mirror Therapy." Pratchaya Phinthong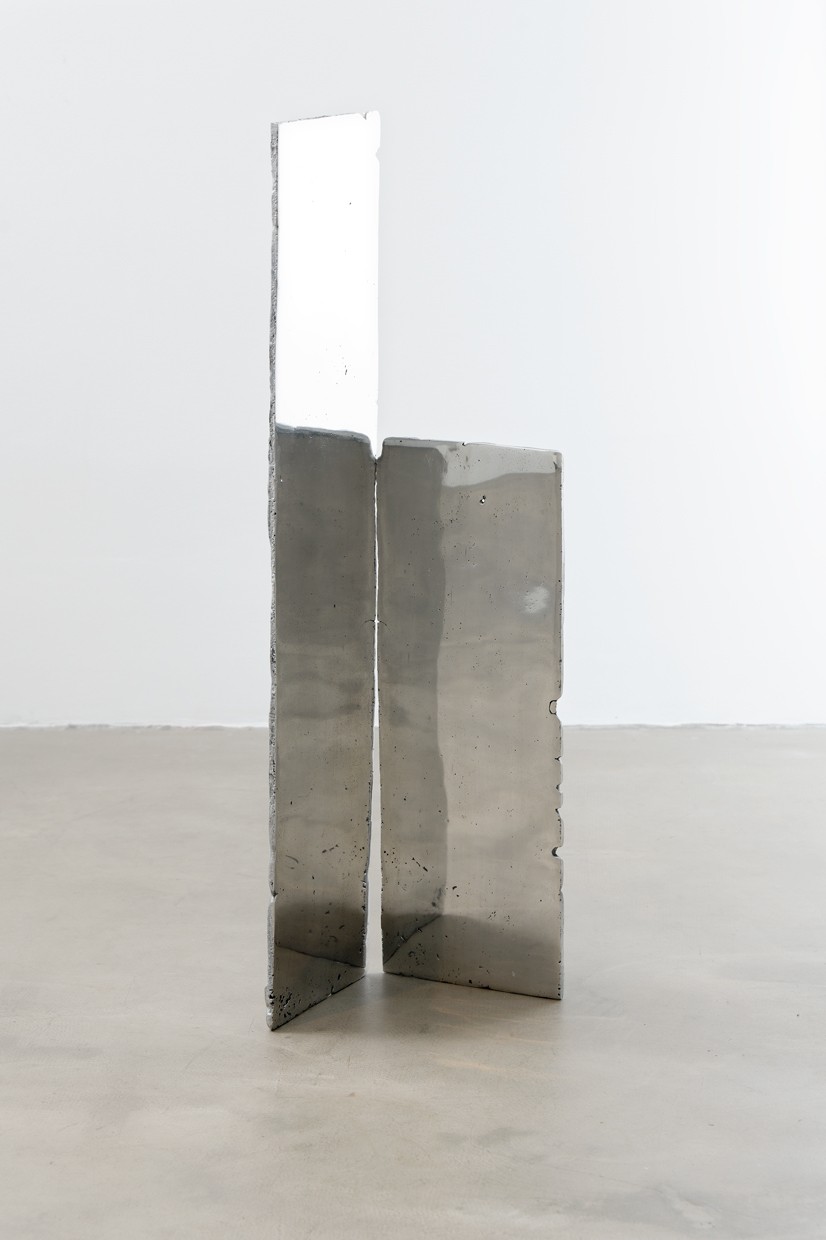 Pratchaya Phinthong, The Organ of Destiny,(////)(4), 2022
"In a new series of works called The Organ of Destiny, lead and tin from munitions is recast, scaled and polished to resemble the mirrors used in a breakthrough treatment for phantom limb syndrome, the debilitating pain experienced by many amputees. The artist takes inspiration from Canadian campaigner Stephen Sumner, who distributes mirrors from village to village by bicycle in neighbouring Cambodia, training amputees in the therapy that cured his own phantom limb pain." David Teh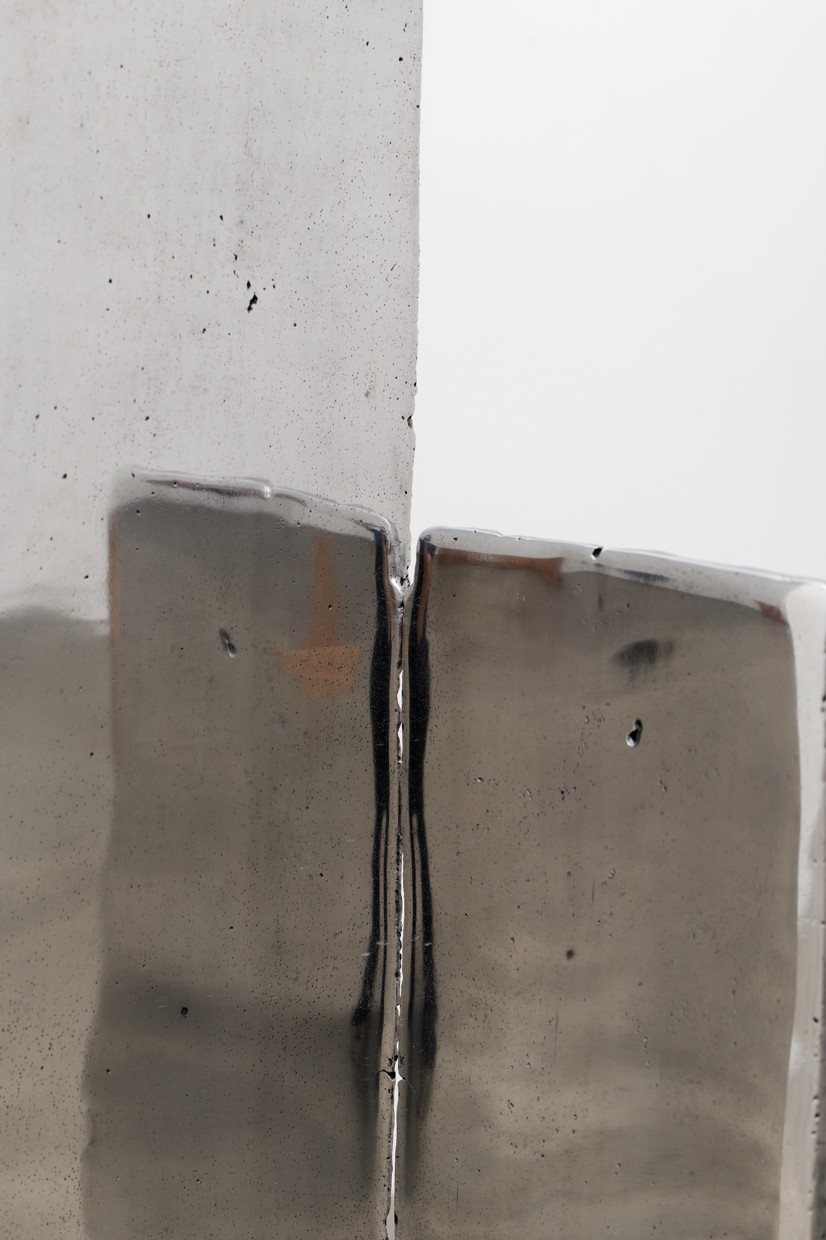 "These tropical migrations of substance and spirit may seem distant, even exotic. But as Europe reels again from an indiscriminate brutality, war of a heaviness thought to have been consigned to history, Pratchaya reminds us of the larger circuits of metamorphosis and renewal that envelop us all." David Teh
"The video work Today will take care of tomorrow, borrows its title from a poem by Paul Malimba about Laos' beautiful but dangerous landscape. In the video, the subtly defamiliarizing gaze of an infra-red camera seeks out trees that have absorbed shrapnel from this indiscriminate violence, around the ruins of an old Buddhist temple half-destroyed by bombing. Not only have the trees assimilated the foreign matter and thrived despite their wounds, but years later the embedded metals act like accidental amulets, destroying the blades of illegal loggers who must then leave these areas alone. As if protected by an invisible force, the forest has absorbed one violence, which shields it against another. That one time should take care of another may seem like wishful thinking, but this is no personification. The aphorism points to circulations that are both more substantial and more than human." David Teh
The video Today will take care of tomorrow, 2022 can be acquired by being paired with a sculpture from The Organ of Destiny series.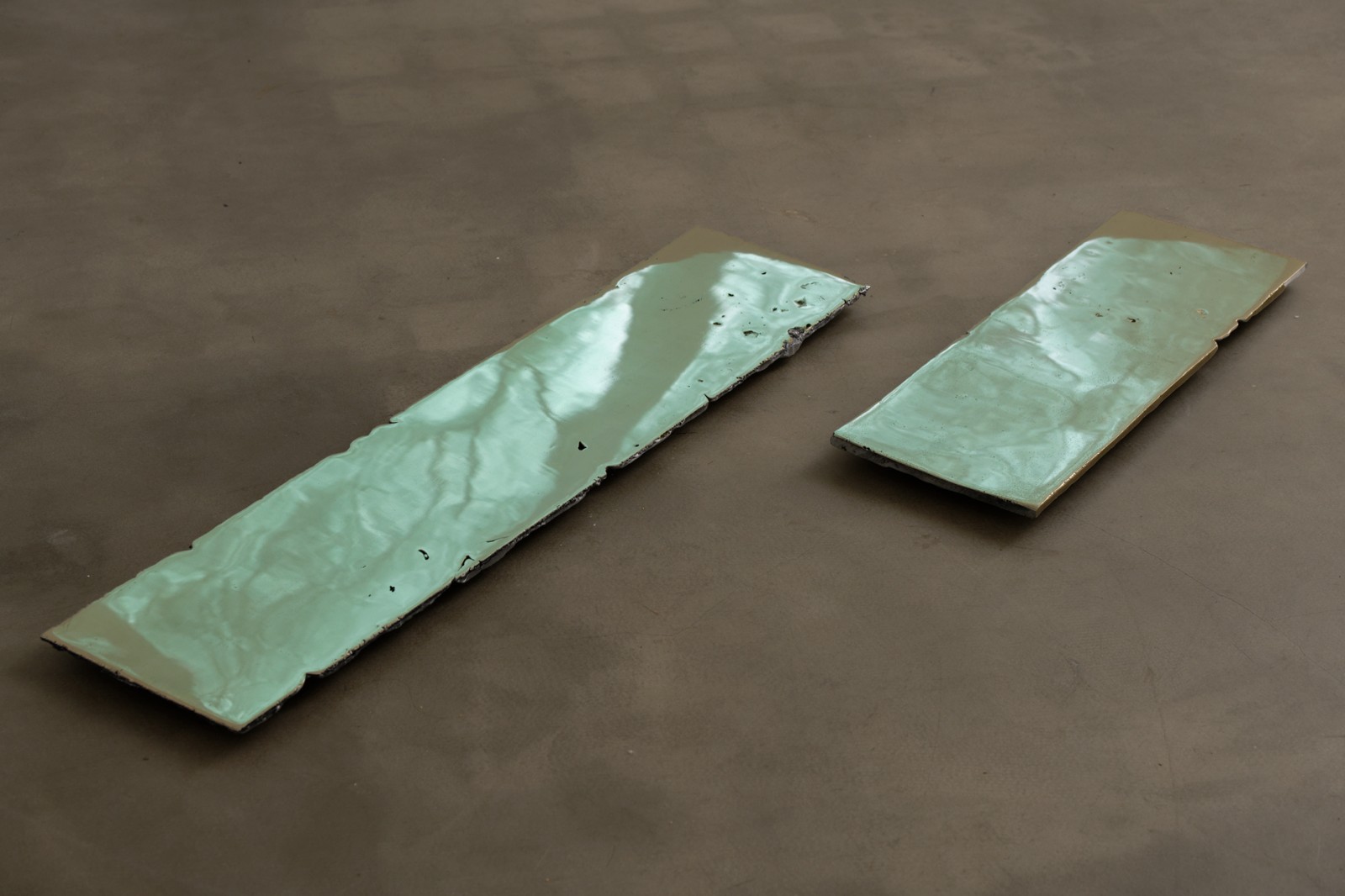 "My practice has always been about finding hinges between different realities, between apparently discrete economies. I want to challenge myself as an artist by asking to what extent my production can engender this kind of productive reflection, giving rise to new reciprocity and new coalitions." Pratchaya Phinthong