viewing room
mai 7 – juillet 30 2021
Pratchaya Phinthong: Waiting for Hilsa
presented by gb agency and Experimenter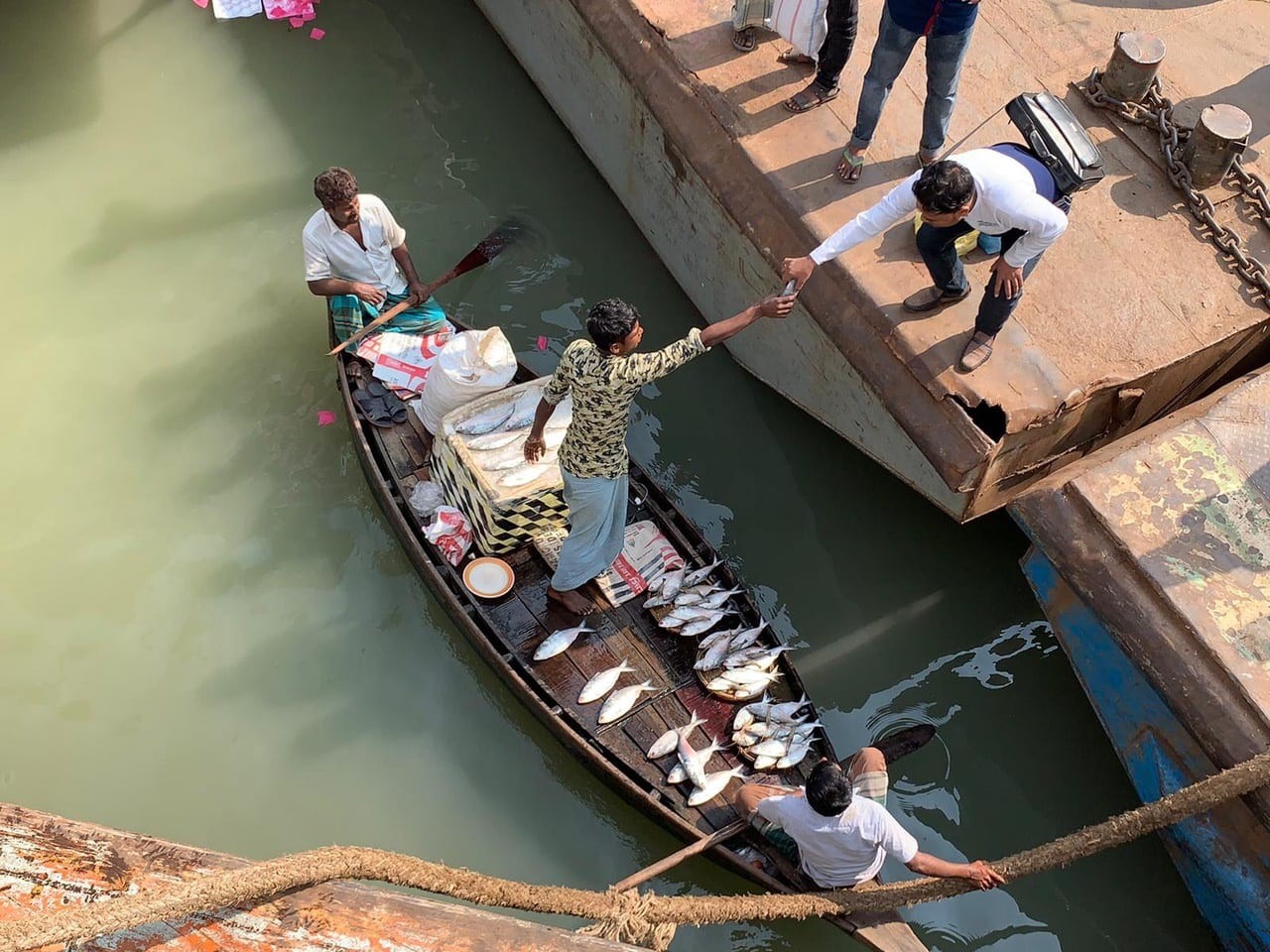 Galleries Curate is an initiative that brings 21 contemporary galleries from around the world together to present exhibitions collectively. Its first chapter titled RHE, from Greek for that which flows, is centered around water. RHE is evocative of unity and impermanence, expressed most famously by the Heraclitean saying, panta rhei [everyting flows]. In keeping with the ethos of building communities and friendships we accepted the invitation of Experimenter, Kolkata to collaboratively present Pratchaya Phinthong's project Waiting for Hilsa, in online viewing rooms presented by both galleries, and in physical presentations in both spaces.
Stories of the Hilsa fish and its migration from the Bay of Bengal up the Padma river and into the Ganges, across salt and fresh water, have been inscribed in South Asian culture for centuries.
In 1975 the Farakka Barrage was completed on the Indian side of the Bangladesh-India border, disrupting this migration. The Hilsa Project (a commission produced by the Samdani Art Foundation for the Dhaka Art Summit: Seismic Movements, 2020) is an installation that recounts the affected Hilsa fish paths in the Ganga river since the Farakka barrage opened in 1975 by India just before flowing at the borders of Bangladesh.
Hilsa entwines East and West Bengal through shared memories, histories, culture and food practices which are integral to Bengalis and the rich heritage of the region. Beyond being an acute marker for a passion of tastes and culinary finesse, Hilsa is a political, sociological and to an extent even a philosophical tenet between the two lands and its people.
Through geopolitics, scientific, spiritual and human relationships and digressions, Pratchaya Phinthong (b. Thailand 1974) draws a new mental map of this conflictual reality, combining on-site and re-constructed photographs, books and objects. Metaphorically, with correspondences and exchanges, the artist analyses the ratios of power in the region in a poetical way focusing on the very particular fish – a symbol of the nation – but also on the water as a source of life.
The journey of this work continues on the Galleries Curate/RHE platform (from 19 -25, April) and will unfold with new partners and friendships that were decisive during the evolution of the project. Dr. Arnab Biswas, Md. Sajedul Haque and Pratchaya Phinthong will hold a discussion over a special Hilsa lunch at Experimenter in Kolkata, that will be recorded simultaneously. At gb agency in Paris, the installation Waiting for Hilsa will be exhibited and decoded. Concurrently, on the website of Galleries Curate/RHE, viewers can follow the itinerary and the memory of the journey between India and Bangladesh.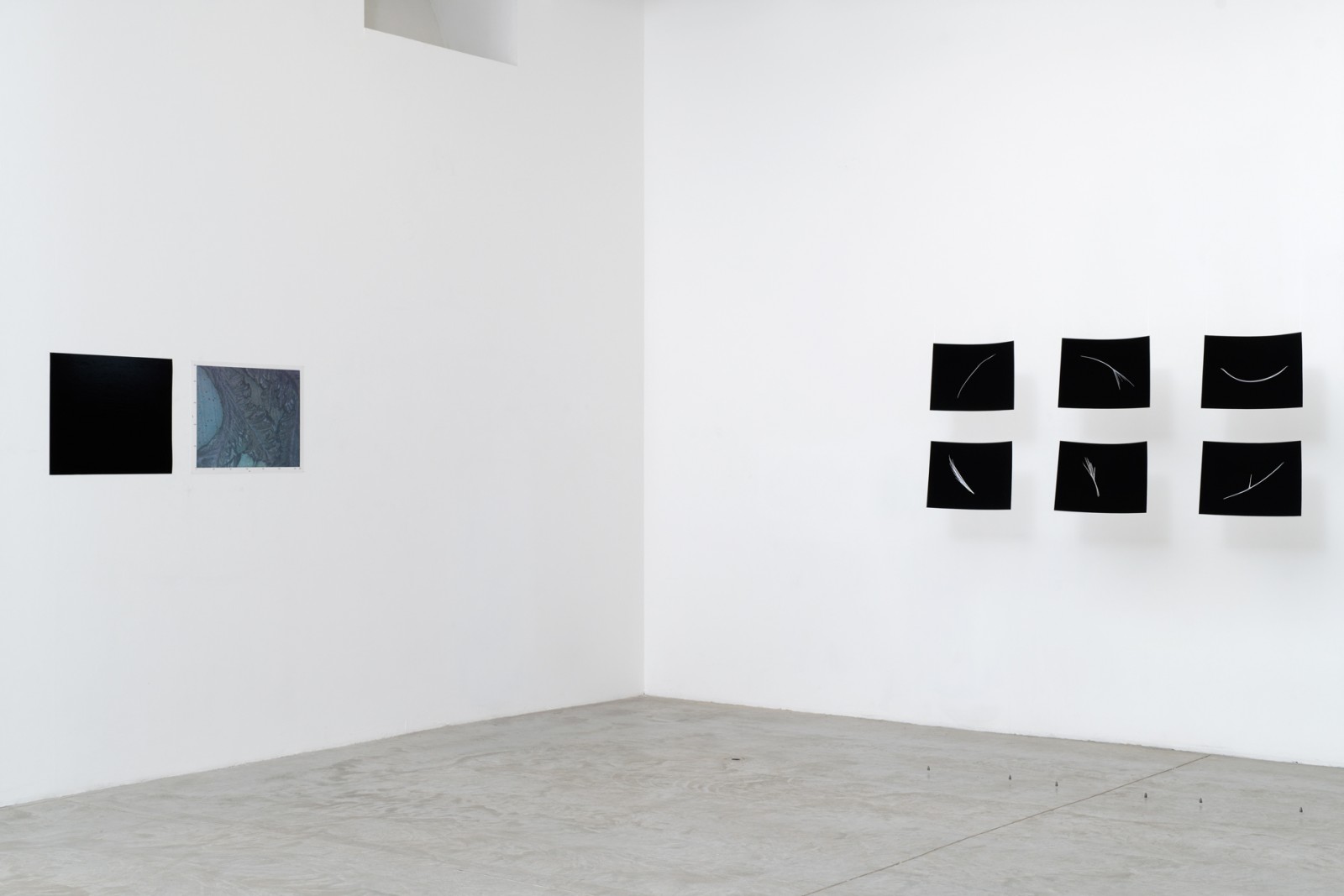 Installation view Waiting for Hilsa, gb agency, Paris, 2021.
Photo A. Mole.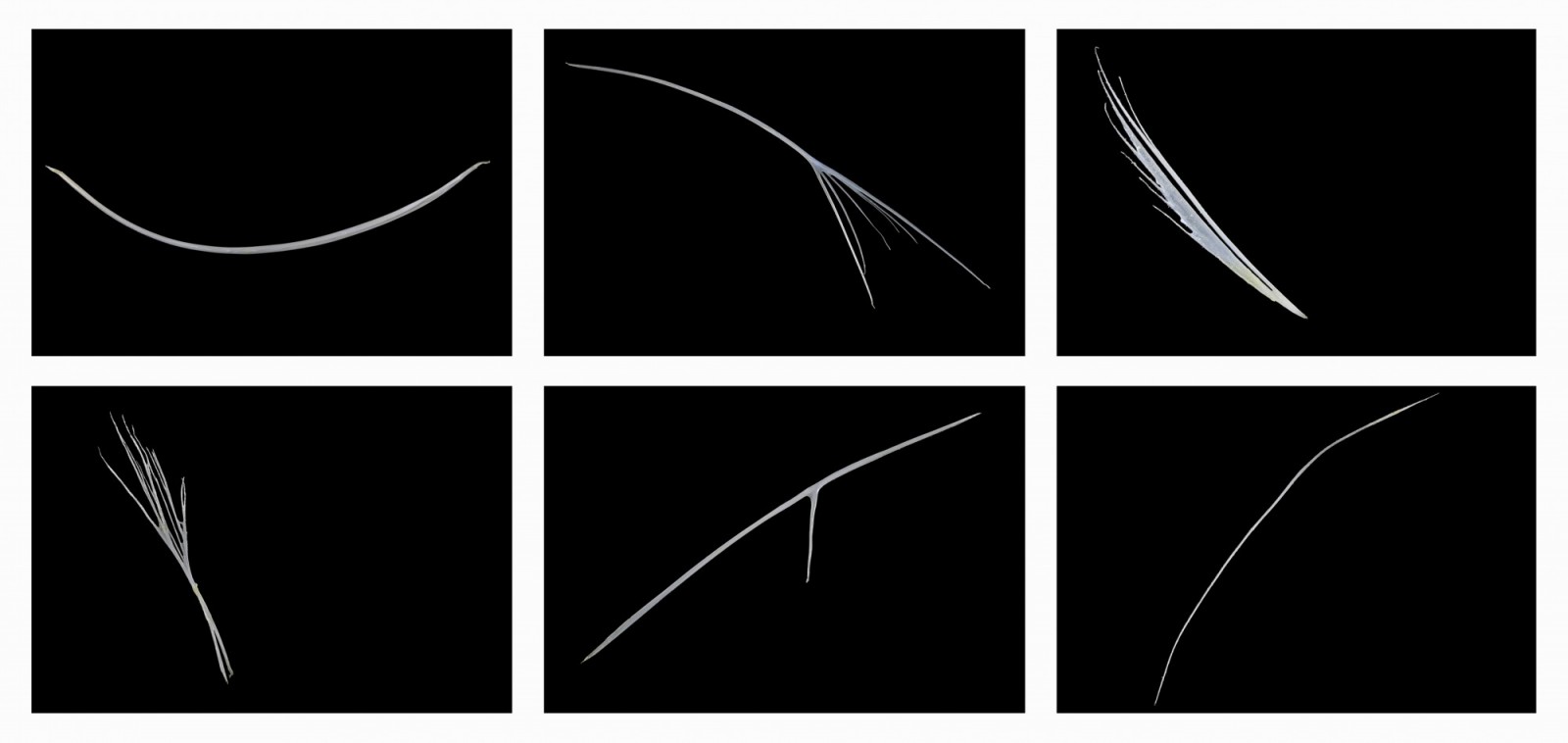 The Hilsa Project (a commission produced by the Samdani Art Foundation for the Dhaka Art Summit: Seismic Movements, 2020) is an installation that recounts the affected Hilsa fish paths in the Ganga river since the Farakka barrage opened in 1975 by India just before flowing at the borders of Bangladesh.
Bone Float are six photographs extracted from the book of the Dr Arnab Biswas, who Pratchaya Phinthong met by chance through a book shop in Calcutta during his research trip for the Hilsa Project. The doctor was highly knowledgeable about the mythology around the fish, its market value and representation, as well as how it affects us in relation to climate change and ecology. That was a starting point of a collaboration. Using Bangladesh's National Dish, this discussion metaphorically examines nationstate powers and the ability of sensations such as state to transcend ideas relating to national identity.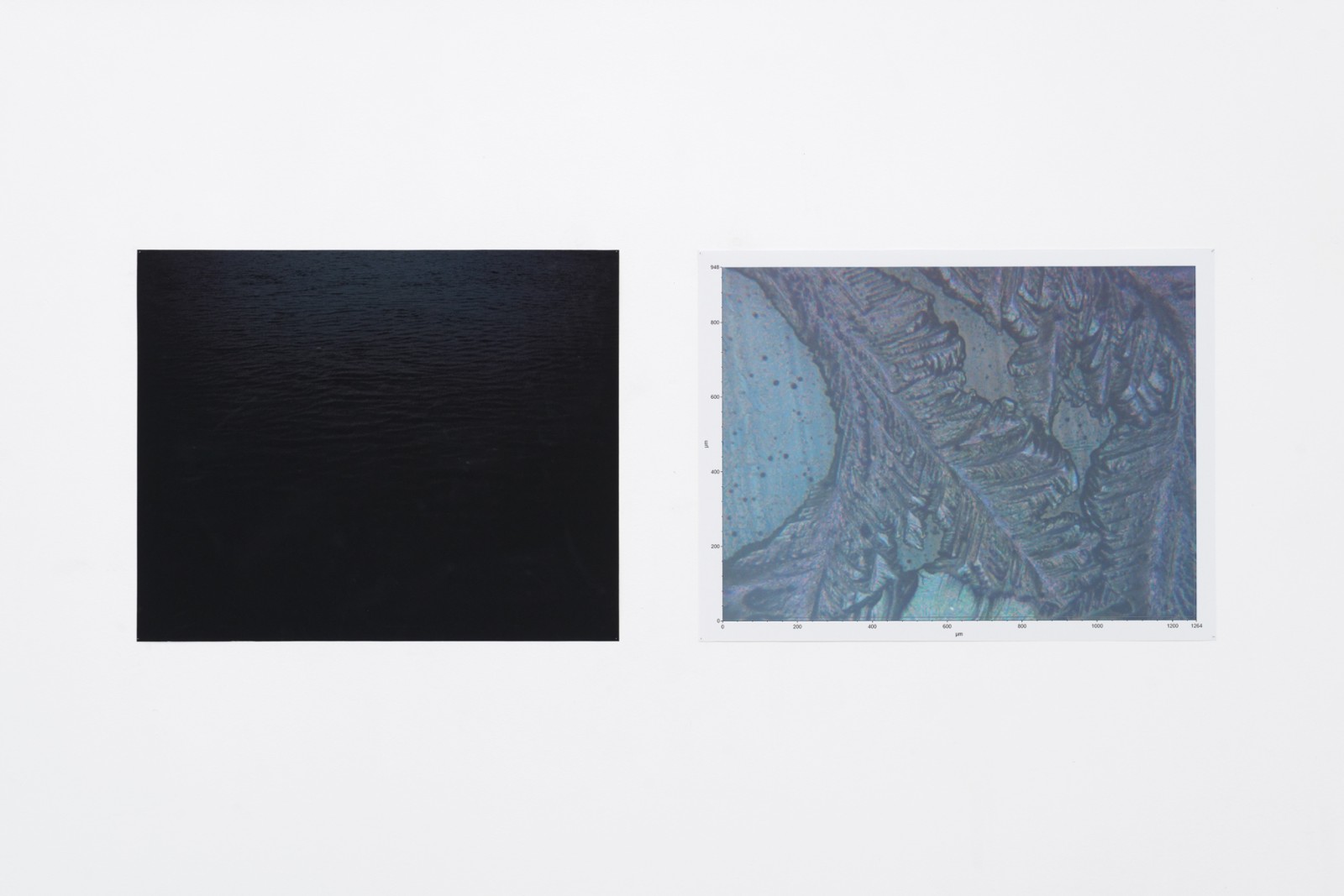 Pratchaya Phinthong, Ganga River, 2019. Diptych of giclée prints on Ilford Smooth Cotton Rag 310g paper, micro scan photography of indelible election ink, 50 x 61.5 cm. Photo A. Mole.
The diptych consists of a color photography of the Ganga River nearby the barrage during the night and a micro scan photography of election ink used by Indian authorities during election process to avoid electoral fraud.
Book by Dr. Arnab Biswas realised for the installation Waiting for Hilsa:

A selection of recipes of Hilsa fish collected by Dr. Arnab Biswas:
Recipes made with Hilsa are celebrated on both sides of the border with fervent passion for the fish with a varied range of ingredients that complement its inherent texture and taste. For Bengalis, the inclusion of the Hilsa is not an ordinary meal and always marks a special moment. The recipes below that have been realised from Dr Biswas' book, reflect the multiplicity of flavours and the wide range of traditional recipes that inherently bind people from both Bengals.
Hilsa in brinjal curry
Ilish Begun er Tel Jhol (Bengali Hilsa Fish Curry) a simple and comforting Bengali fish curry. The Hilsa fish curry made with fresh ilish maach, eggplant chunks, mustard oil and minimal spices making this fish curry extremely irresistible. Its light, soupy, flavourful is perfect with steamed rice.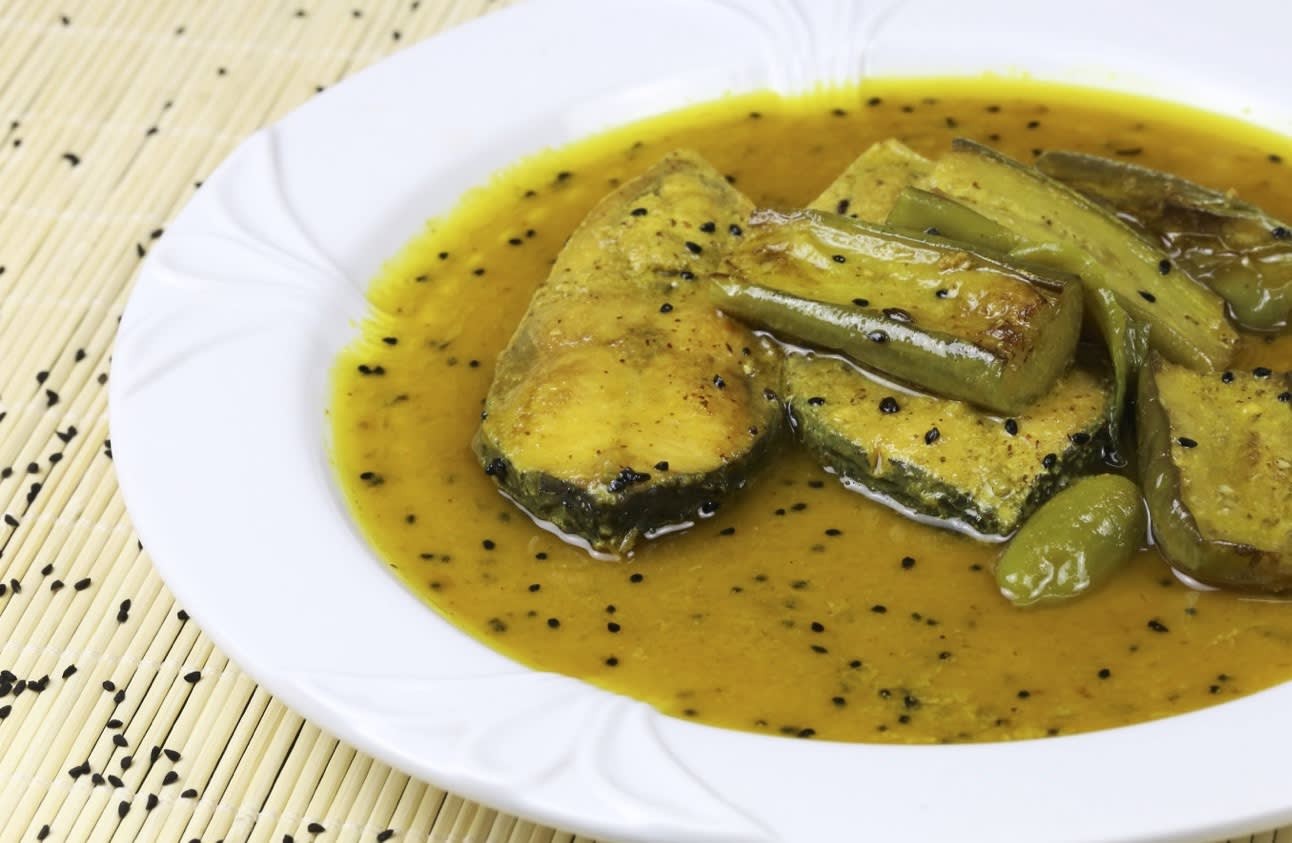 Steamed Hilsa with cumin seeds
Steamed or bhapa hilsa is an all-time delicacy. Here, the cumin seed paste is added to the ever popular mustard seeds to give a sharp taste and flavour to the steamed hilsa.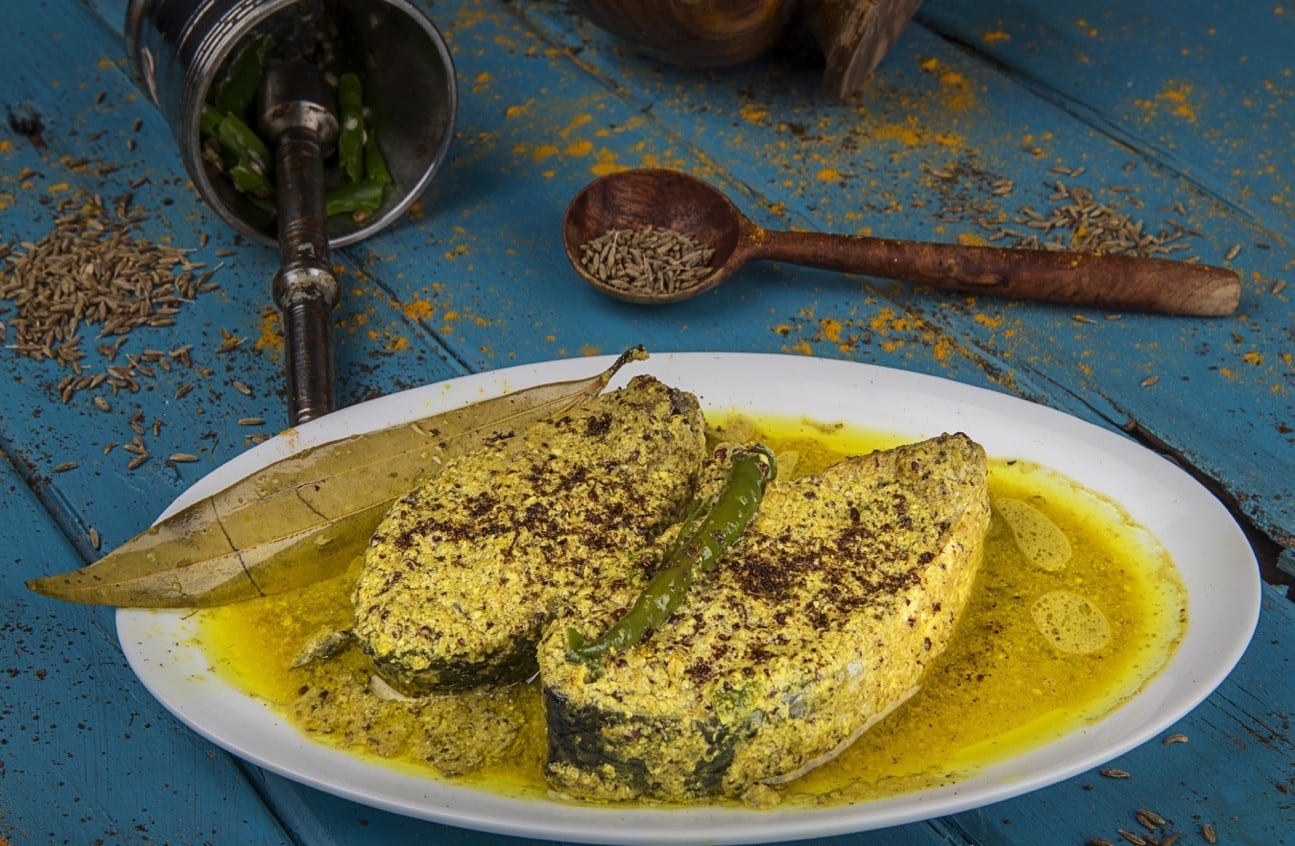 Hilsa tail in dried lentil dumpling and vegetable curry
Bori or dried lentil dumpling is a traditional food item from the Bengal and Bangladesh region. Hilsa tail pieces considered are to be the least tasty part of the fish can be made more interesting by making curry in a mix of multiple fresh vegetables along with the addition of bori.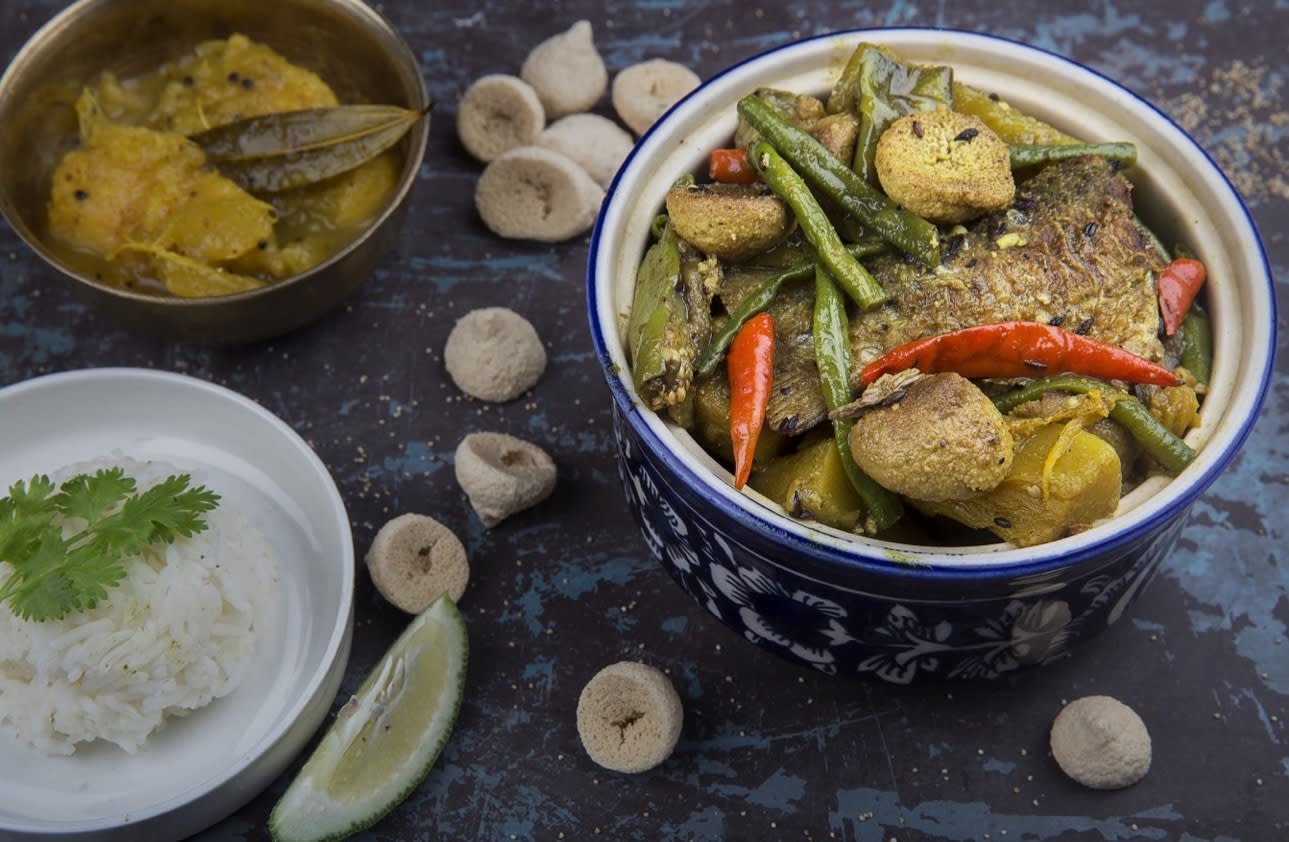 Boneless Hilsa paturi
Paturi is an all time Bengali hilsa preparation. One can make it even extraordinary, if made as a boneless form.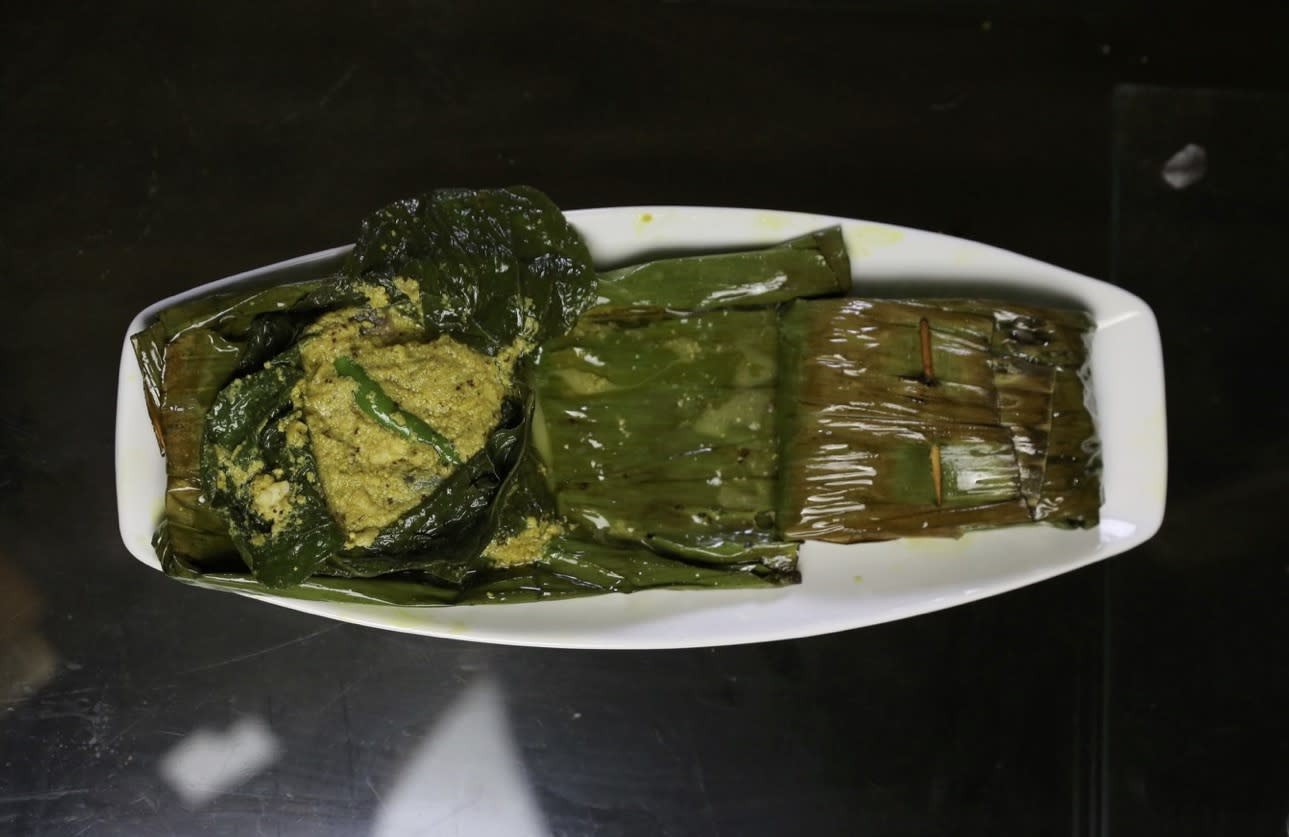 Hilsa Bharta
In Bangladesh, bharta or mashed mix of any edible item with the addition of spices is a delicacy. The heads, tails and fins of the hilsa do not become waste; rather these are used to make a spicy mash, called Ilish Mach Bhorta. This recipe was obtained from the stalls from the famous Moa ghat near Dhaka. It is usually accompanied with plain white rice.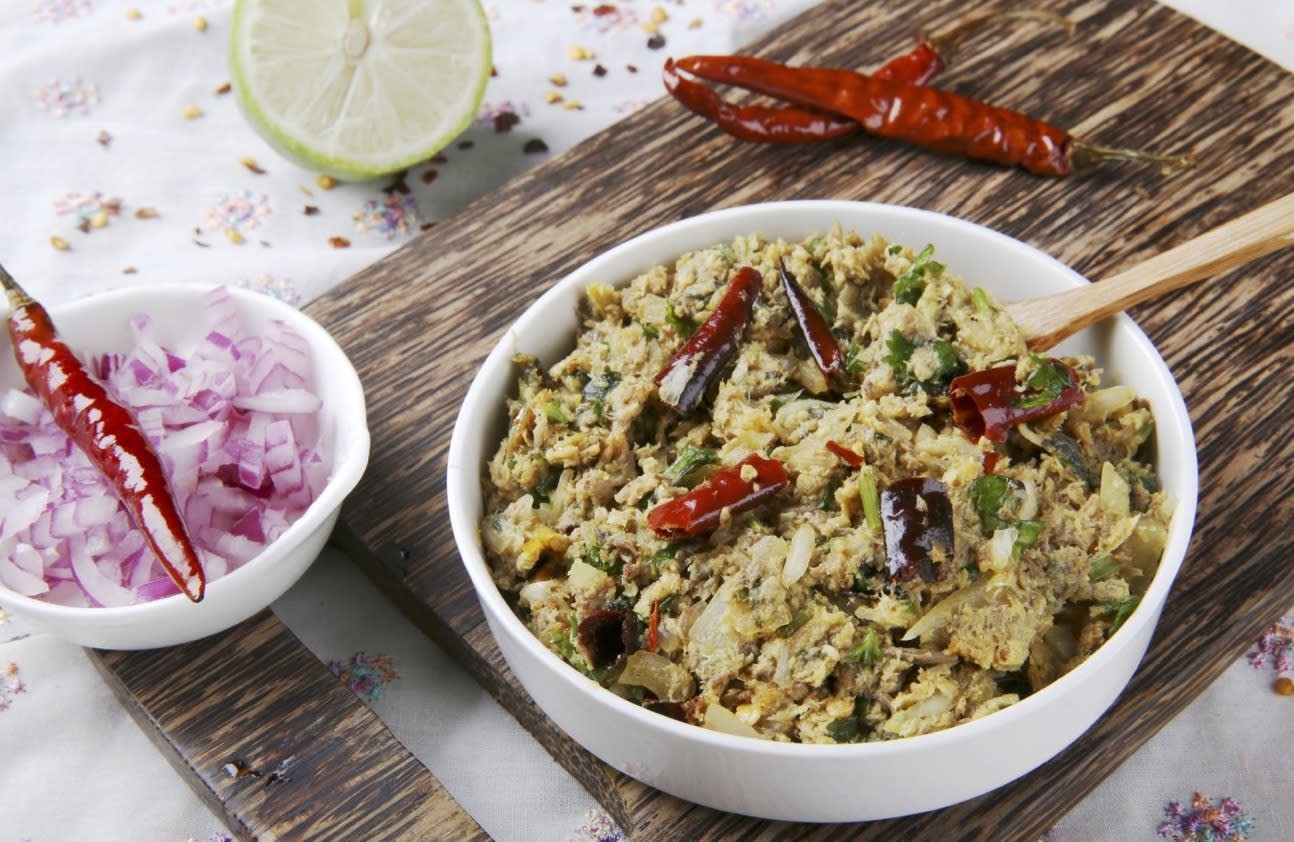 Hilsa head in ash gourd
Hilsa can be cooked with most varieties of gourds. Here the hilsa head is mixed with finely cut ash gourd. One can attempt the same recipe with similar vegetables such as bottle gourd, squash, sponge gourd or ridge gourd.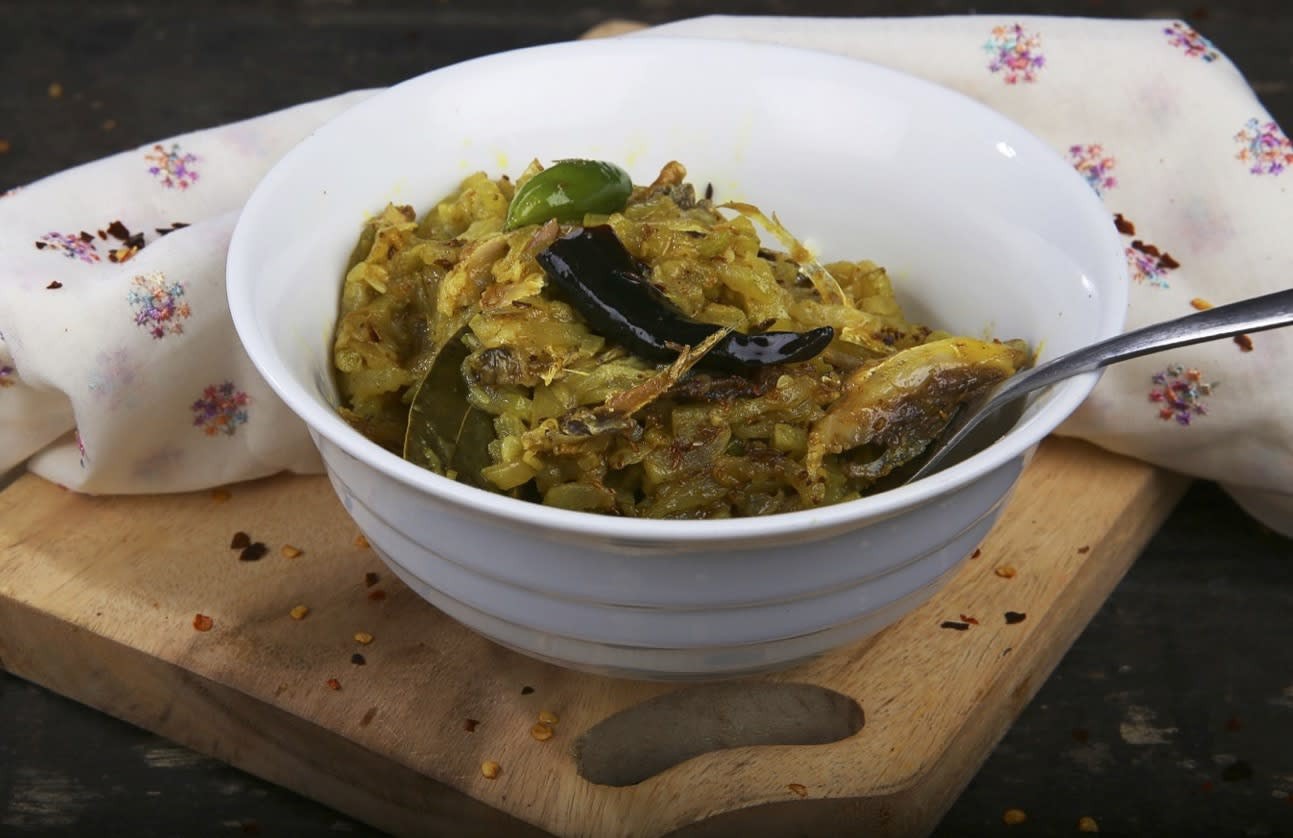 Hilsa Pattysapta
Pattysapta is a traditional Bengali sweet made with rice powder. A mixture of grated coconut, kheer and jaggery is then added to the pancakes or crepes and wrapped over. It is popular during the festival of Makar Sankranti.

Hilsa Pithey
Pithey is a traditional preparation during the festive season. It can be accompanied with sweet jaggery or with tamarind paste.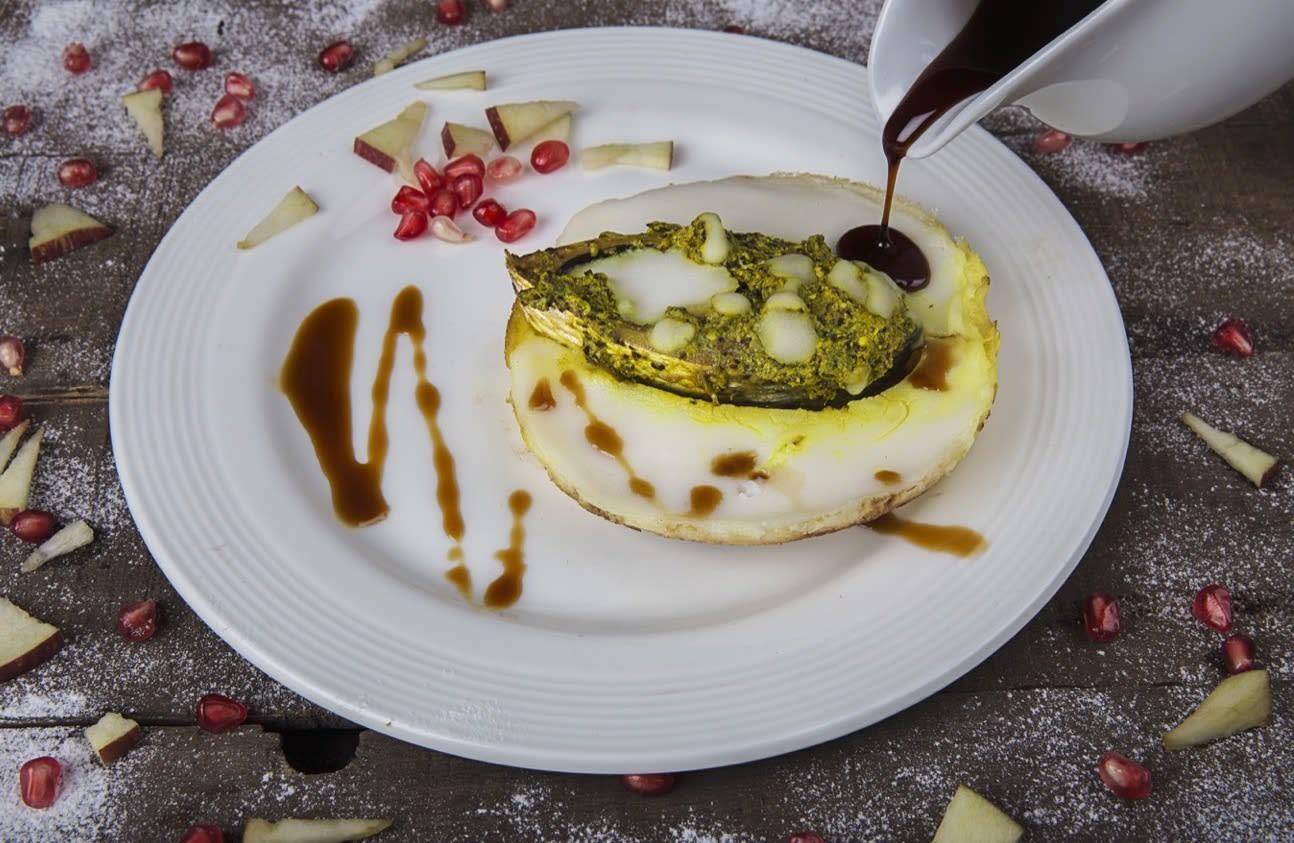 ---
Pratchaya Phinthong (Thailand, 1974) lives and works in Bangkok.